Go back to Editions
The Paradoxical Image. Francisco Afonso Chaves (1857-1926)
Victor dos Reis e Emília Tavares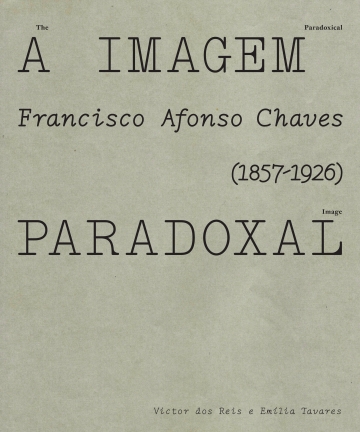 Catalogue of the retrospective exhibition of the stereoscopic photographs of Francisco Afonso Chaves, the Azorean naturalist result from a thorough investigation conducted by Victor dos Reis in collaboration with many other Portuguese and international researchers.
Afonso Chaves had a leading role in the scientific development in Portugal and he had a wide range of interests, from biology to geology, geophysics, volcanology, seismology and meteorology. The cosmopolitanism and modernity of his life are reflected on his scientific work and on his photographic activity. They contribute to expand the interest of his oeuvre, unknown to the public and absent from the history of Portuguese photography, and they also present an Azorean in the centre of the world.
His stereoscopic images form a broad and original album on scientific themes but also reveal the restless photographer, captivated by events, by nature, by the sheer delight of the world's shapes, by social snapshots, by travel photography or by the magical nature of the mechanical image. In this way, they present a rare and creative dialogue between art and science, and a fascination with the paradox and duality of the photographic image between the truth and its representation, between the representation and its visual perception, between the mechanical register and its sensitive interpretation.
With this exhibition and this catalogue the MNAC – Museu do Chiado, in partnership with the Museu Carlos Machado and the Museu Nacional de História Natural e da Ciência, further contributes to the study and diffusion of 19th century Portuguese photography, revealing yet another one of its charismatic creators.
Technical Characteristics

240 pages

Closed format: 20 x 24 cm

CORE:

Printing to 4/4

Paper: Ultimatt 150 gr

COVER:

Hardcover Lined to Imitlin E / R65 Fiandra; Grigrio Chiaro 125 gr

Black printing

Contains 3D glasses viewing device.
Publication Date

2017

Preço

18 €

Idiomas Dísponiveis

en

Tiragem

1500 exemplares

ISBN

978-972-776-502-7

Depósito Legal

428548/17